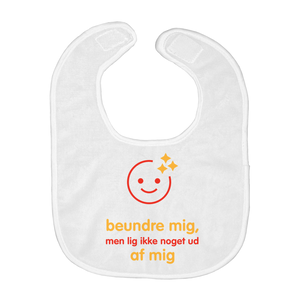 Adore me Bib (Danish)
Regular price $12.00 Sale
Digital parents of newborns have one goal: to act as the digital guardian of your darling new member of the family. If you need a subtle reminder for friends, family, and visitors that photos of your little wonder are A-okay, but posting those same photos on social media is NOT, then this bib is for you.

COURTESY TRANSLATION USING GOOGLE TRANSLATE - please excuse any errors.
Digitale forældre til nyfødte har ét mål: at fungere som den digitale værge for dit elskede nye familiemedlem. Hvis du har brug for en subtil påmindelse til venner, familie og besøgende, at billeder af dit lille underliv er okay, men at postere de samme billeder på sociale medier er IKKE, så er denne bib til dig.