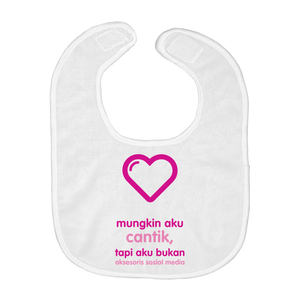 Gorgeous Bib (Indonesian)
Regular price $12.00 Sale
This is a friendly little reminder that although your precious baby girl is gorgeous, that doesn't mean people have the right to use photos of her to boost their social media following.

Now, don't forget to sign-up for our newsletter and join the Digital Parenting Community on Facebook!

PRODUCT DESCRIPTION: Made from 100% cotton and machine washable, with velcro closing.

COURTESY TRANSLATION USING GOOGLE TRANSLATE - please excuse any errors.
Ini adalah pengingat kecil yang bersahabat bahwa meskipun bayi perempuan Anda yang cantik itu cantik, itu tidak berarti orang memiliki hak untuk menggunakan foto dirinya untuk meningkatkan pengikut media sosial mereka.

Sekarang, jangan lupa untuk mendaftar untuk buletin kami dan bergabunglah dengan Digital Parenting Community di Facebook!

DESKRIPSI PRODUK: Terbuat dari katun 100% dan dapat dicuci dengan mesin, dengan penutupan velcro.