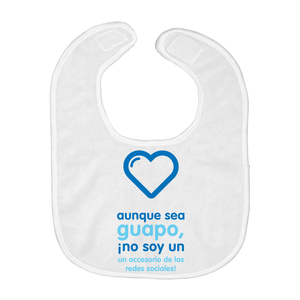 Handsome Bib (Spanish)
Regular price $12.00 Sale
Here is a friendly little reminder that although your sweet baby boy is incredibly handsome, that doesn't mean people have the right to use photos of him to boost their social media following.

Now, don't forget to sign-up for our newsletter and join the Digital Parenting Community on Facebook!
PRODUCT DESCRIPTION: Made from 100% cotton and machine washable, with velcro closing.
COURTESY TRANSLATION USING GOOGLE TRANSLATE - please excuse any errors.
Aquí hay un pequeño y amigable recordatorio de que, aunque su dulce bebé es increíblemente guapo, eso no significa que las personas tengan el derecho de usar fotos de él para mejorar sus seguidores en las redes sociales.

¡Ahora, no se olvide de suscribirse a nuestro boletín y únase a la Comunidad de Padres Digitales en Facebook!
DESCRIPCIÓN DEL PRODUCTO: Confeccionada en 100% algodón y lavable a máquina, con cierre de velcro.