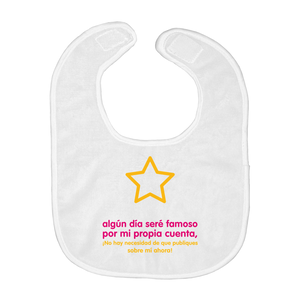 I'll be famous Bib (Spanish)
Regular price $12.00 Sale
Let your fabulous baby enjoy some anonymity for a while.  Use this bib as a cue to all admirers, that while we are all sure that he/she will grow up to be famous one day, for now, he/she is still just a baby, just trying to enjoy some food.
Now, don't forget to sign-up for our newsletter and join the Digital Parenting Community on Facebook!
PRODUCT DESCRIPTION: Made from 100% cotton and machine washable, with velcro closing.
COURTESY TRANSLATION USING GOOGLE TRANSLATE - please excuse any errors.
Deja que tu fabuloso bebé disfrute un poco de anonimato por un tiempo. Use este babero como una señal para todos los admiradores, que mientras todos estamos seguros de que él / ella llegará a ser famoso algún día, por ahora, él / ella es solo un bebé, solo está tratando de disfrutar algo de comida.
¡Ahora, no se olvide de suscribirse a nuestro boletín y únase a la Comunidad de Padres Digitales en Facebook!
DESCRIPCIÓN DEL PRODUCTO: Confeccionada en 100% algodón y lavable a máquina, con cierre de velcro.