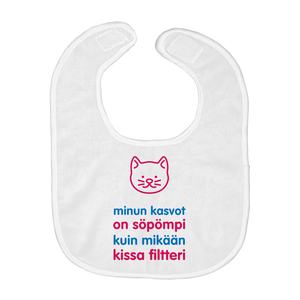 Kitty Bib (Finnish)
Regular price $12.00 Sale
Yes, we all know that filters are cute. Let's keep it real though… Does your adorable baby really need that to look any cuter? No, definitely not. No filter needed. No photos of your cute baby eating on social media needed either.

Now, don't forget to sign-up for our newsletter and join the Digital Parenting Community on Facebook!

PRODUCT DESCRIPTION: Made from 100% cotton and machine washable, with velcro closing.

COURTESY TRANSLATION USING GOOGLE TRANSLATE - please excuse any errors.
Kyllä, me kaikki tiedämme, että suodattimet ovat söpöjä. Pidämme se tosissaan ... Tarvitseeko suloinen vauva todella sitä, että se näyttäisi mitään söpömpää? Ei, ei todellakaan. Suodatinta ei tarvita. Myöskään sosiaalisessa mediassa ei tarvita valokuvia söpöstäsi vauvaasi syömisestä.

Nyt unohda ilmoittautuminen uutiskirjeemme ja liittyä Facebookin Digitaalisen vanhemmuuden yhteisöön!

TUOTEKUVAUS: Valmistettu 100% puuvillasta ja konepestävä, tarranauha sulkeutuva.