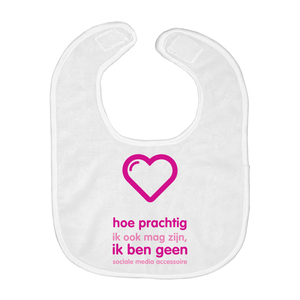 Gorgeous Bib (Dutch)
Regular price $12.00 Sale
This is a friendly little reminder that although your precious baby girl is gorgeous, that doesn't mean people have the right to use photos of her to boost their social media following.

Now, don't forget to sign-up for our newsletter and join the Digital Parenting Community on Facebook!

PRODUCT DESCRIPTION: Made from 100% cotton and machine washable, with velcro closing.

COURTESY TRANSLATION USING GOOGLE TRANSLATE - please excuse any errors.
Dit is een vriendelijke kleine herinnering dat, hoewel je dierbare baby-meisje prachtig is, dit niet betekent dat mensen het recht hebben om foto's van haar te gebruiken om hun sociale media-aanhang te stimuleren.

Vergeet u nu niet aan te melden voor onze nieuwsbrief en lid te worden van de Digital Parenting Community op Facebook!

PRODUCTBESCHRIJVING: Gemaakt van 100% katoen en wasbaar in de machine, met klittenbandsluiting.