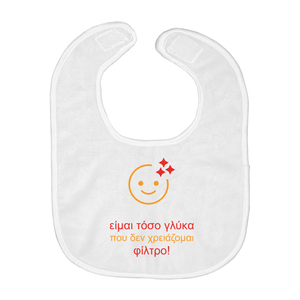 No Filter Bib (Greek)
Regular price $12.00 Sale
Your baby is perfectly adorable on her/his own, without that sparkly Snapchat filter. No filter needed, and no online photos needed either.

Now, don't forget to sign-up for our newsletter and join the Digital Parenting Community on Facebook!

PRODUCT DESCRIPTION: Made from 100% cotton and machine washable, with velcro closing.

COURTESY TRANSLATION USING GOOGLE TRANSLATE - please excuse any errors.
Το μωρό σας είναι απόλυτα λατρευτό, χωρίς αυτό το φίλτρο Snapchat. Δεν χρειάστηκε φίλτρο και δεν χρειάστηκαν και φωτογραφίες στο διαδίκτυο.

Τώρα, μην ξεχάσετε να εγγραφείτε στο ενημερωτικό μας δελτίο και να συμμετάσχετε στην Κοινότητα Digital Parenting στο Facebook!

ΠΕΡΙΓΡΑΦΗ ΠΡΟΪΟΝΤΟΣ: Κατασκευασμένο από 100% βαμβάκι και πλένεται στο πλυντήριο, με κλείσιμο velcro.