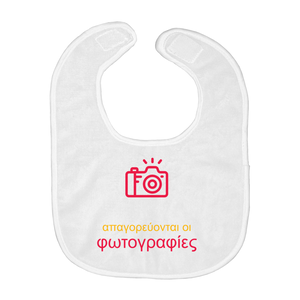 No Photos Bib (Greek)
Regular price $12.00 Sale
You know that your baby is adorable and everyone wants a picture, but you want to be able to control the photos that end up online. This bib gets the message across and protects your baby's digital identity – until you decide when to post on social media.

Now, don't forget to sign-up for our newsletter and join the Digital Parenting Community on Facebook!

PRODUCT DESCRIPTION: Made from 100% cotton and machine washable, with velcro closing.

COURTESY TRANSLATION USING GOOGLE TRANSLATE - please excuse any errors.
Ξέρετε ότι το μωρό σας είναι αξιολάτρευτο και όλοι θέλουν μια φωτογραφία, αλλά θέλετε να είστε σε θέση να ελέγξετε τις φωτογραφίες που καταλήγουν στο διαδίκτυο. Αυτή η θήκη λαμβάνει το μήνυμα και προστατεύει την ψηφιακή ταυτότητα του μωρού σας - μέχρι να αποφασίσετε πότε να δημοσιεύσετε τα μηνύματά σας στα κοινωνικά μέσα.

Τώρα, μην ξεχάσετε να εγγραφείτε στο ενημερωτικό μας δελτίο και να συμμετάσχετε στην Κοινότητα Digital Parenting στο Facebook!

ΠΕΡΙΓΡΑΦΗ ΠΡΟΪΟΝΤΟΣ: Κατασκευασμένο από 100% βαμβάκι και πλένεται στο πλυντήριο, με κλείσιμο velcro.